Biography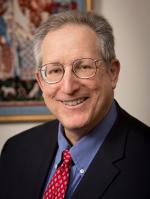 Jack M. Balkin is Knight Professor of Constitutional Law and the First Amendment at Yale Law School. He is the founder and director of Yale's Information Society Project, an interdisciplinary center that studies law and new information technologies. He also directs the Abrams Institute for Freedom of Expression, and the Knight Law and Media Program at Yale.
In addition to Yale, he has been a member of the law faculties at the University of Texas and the University of Missouri-Kansas City, and a visiting professor at Harvard University, New York University, the Buchman Faculty of Law at Tel Aviv University and the University of London. He also served on the Biden Commission on the Supreme Court of the United States.
Professor Balkin is a member of the American Academy of Arts and Sciences and a member of the American Law Institute. In 2021 he served on the Biden Commission on the Supreme Court of the United States. He founded and edits the weblog Balkinization (http://balkin.blogspot.com/). He is the author of over one hundred forty articles and the author or editor of fourteen books. His work ranges over many different fields, including constitutional theory, telecommunications and Internet law, reproductive rights, freedom of speech, rhetoric, jurisprudence and legal reasoning, cultural evolution, the theory of ideology, and musical and legal interpretation. His most recent books include The Cycles of Constitutional Time (Oxford University Press, 2020), What Obergefell v. Hodges Should Have Said (Yale University Press, 2020), Democracy and Dysfunction (University of Chicago Press, 2019)(with Sanford Levinson), and Living Originalism (Harvard, Belknap Press, 2011).